COMPRESS Heat Exchanger Design Option
About the ASME (UHX)/TEMA Heat Exchanger Option
Design shell and tube heat exchangers to TEMA and/or ASME (UHX) rules with the COMPRESS heat exchanger option. Features include:
Fixed, U-tube and floating tubesheet designs
Simplified, step-by-step data entry mode
UHX elastic-plastic analysis (if required)
Flanged and flued expansion joints
Appendix 26 bellows expansion joints
ASME shell bands
Specify up to 8 different design conditions
Preference-based automatic Appendix 2 (custom) flange detailing
Automatic baffle placement
Tube-to-tubesheet joint calculations
Tube field layout capability
Interface with HTRI's Xchanger Suite®
3D solid model export to third party software *
* With current a Support and Update Service subscription

Import HTRI® Files Into COMPRESS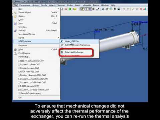 How to Import HTRI Files Into COMPRESS
The COMPRESS / HTRI Interface aids engineers with optimizing both the thermal and mechanical design of a heat exchanger by preventing duplicate data entry and streamlining communication between the different departments.
Interface Overview
To enable collaboration between Mechanical and Thermal Designers, COMPRESS offers a read / write interface with HTRI's Xchanger Suite. The HTRI interface is included at no additional charge with the COMPRESS heat exchanger option.
HTRI Xchanger Suite users can access shell and tube heat exchanger (Xist) files directly from within COMPRESS. Required mechanical details not present in the HTRI file are automatically provided as well as suggestions for optimal thicknesses for various exchanger components. This linkage allows for quick investigation of the effects of mechanical changes on exchanger performance. Visit www.htri.net to learn more about Xchanger Suite.
How It Works
Import your HTRI Xchanger Suite file by selecting "File | HTRI Interface | Open HTRI File." A COMPRESS model is generated based on the exchanger specified in the HTRI file.
Add required mechanical details to the thermal design. The software provides suggestions for optimal thicknesses for various components and ensures that the mechanical design meets ASME Code requirements.
Optionally, re-run the thermal analysis from within COMPRESS using the HTRI interface or save the design as an HTRI file and open it in Xchanger Suite. Ensure that mechanical changes made did not affect the thermal performance of the equipment.
This process can be repeated until a fully-optimized exchanger design is obtained.
Questions?
We're here to help. Contact Us or Call 941.927.2670 for more information.