Historia de la Empresa y Organización
Codeware surge en el año 1983 en Ontario, Canadá. Nuestra primera oficina en los Estados Unidos de América fue abierta en el año 1993. Actualmente tenemos oficinas en Sarasota, Florida y Austin, Texas. El fundador de Codeware, Les M. Bildy, P. Eng. ha sido Presidente desde el año 1983.
La ingeniería es el corazón pulsante de Codeware. Nuestra filosofía es que hace falta un conocimiento especializado para poder interpretar y programar las reglas del Código ASME. Esta es la razón por qué el equipo de programadores de Codeware se compone principalmente de Ingenieros Mecánicos que son también Programadores de Softwares. Es muy común ver miembros de nuestro equipo de programadores reunidos en torno a una pizarra debatiendo las ventajas ingenieriles de una solución antes de implementarla en COMPRESS, INSPECT o Shopfloor.
Los Responsables y los Ingenieros de venta de Codeware, no distribuidores o agentes que trabajan por comisión, están siempre constantemente a disposición para asistir en su evaluación de software y contestar sus preguntas. Responsables de venta y de Atención Técnica al Cliente trabajan junto a nuestros Clientes para investigar y resolver cualquier consulta. Nuestro equipo de Tecnología de la Información está disponible para contestar preguntas de instalación y de conexión. Nuestros ingenieros mecánicos están disponibles para explicar nuestra interpretación del Código y como es implementada en nuestro software. Codeware no subcontrata COMPRESS, INSPECT o Shopfloor ni la atención técnica.
Clientes

Nueva Sede Central de Codeware

La nueva sede central de Codeware abrió en junio 2019. El campus de 27,000 pies cuadrados reduce el estrés en el ambiente siendo construido según el sistema de certificación de edificios sostenibles LEED (Leadership in Energy & Environmental Design) y tiene oficinas privadas con vista a lago y fauna.
Premios
El día 12 de mayo 2011, el Consejo Directivo de ASME Normas y Certificaciones premiaron el Presidente de Codeware Sr. Les M. Bildy, P. Eng.  con un Certificado de Aclamación por Excelencia Técnica en el Desarrollo de las Normas del Código – Parte 4, Párrafo 4.5 Refuerzo en Abertura de Boquillas en la Edición 2007 ASME Sección VIII División 2.
La Empresa Codeware fue seleccionada como finalista del Premio 2014 Frank G. Berlin, Sr. International Organization of the Year por la Cámara de Comercio de Sarasota.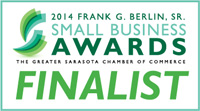 Asociaciones y Afiliaciones Empresariales