Company History and Organization
Codeware was founded in 1983 in Ontario, Canada. We opened our first U.S. office in 1993. We currently have offices in Sarasota, Florida and Austin, Texas. Codeware's founder, Les M. Bildy, P. Eng., has served as President since 1983.
Engineering is at the core of Codeware. Our philosophy is that very specialized knowledge is needed to properly interpret and program the rules of the ASME Code. That's why Codeware's programming team is comprised primarily of Mechanical Engineers who are also Software Developers. It is common to see members of our software development team gathered around a white board debating the engineering merits of an approach before implementing it in COMPRESS, INSPECT or Shopfloor.
Codeware's salaried Account Managers and Sales Engineers, not commission based distributors or sales reps, are ready to assist with your software evaluation and answer any licensing questions. Account Management and Support Team Members work closely with clients to investigate and resolve each question raised. IT Support personnel are here to answer installation and networking questions. Codeware's experienced Engineers are available to explain our interpretation of the ASME Code rules as implemented in the software. Codeware does not outsource COMPRESS, INSPECT or Shopfloor programming, client support or client services.
Clients
Our engineering software is used in various industries including oil and gas, petrochemicals, water treatment, food production, transportation and biofuels. Codeware directly supplies software to Clients in Over 65 Countries.

New Codeware Headquarters

We completed construction of and moved into our new corporate headquarters in June of 2019. This 27,000 square foot campus is part of our ongoing efforts to better serve our customers and support our employees. It features private offices and an employee fitness center overlooking a man made lake.
Business Recognition
Featured at a Tampa Bay Lightning hockey game, Codeware was nominated by Chase bank to receive a grant by the Tampa Bay Lightning organization to further their business growth and impact on the Sarasota community.
Awards
On May 12, 2011 the ASME Standards and Certification Board of Directors awarded a Certificate of Acclamation to Codeware's President Les M. Bildy, P. Eng. for Technical Excellence in the Development of Code Rules in Part 4, Par. 4.5 for Nozzle Opening Reinforcement in the 2007 Edition of ASME Section VIII Division 2.
Codeware was selected as a finalist for the 2014 Frank G. Berlin, Sr. International Organization of the Year Award by The Greater Sarasota Chamber of Commerce.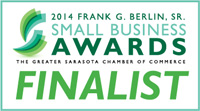 Trade Associations and Memberships
Transparency in Coverage
Codeware is committed to the compliance of the Consolidated Appropriations Act (CAA) by providing transparency of our health plan prices. If you are seeking employment and would like to know the cost of care before applying, please visit the following resource: United Healthcare Machine Readable Files (MRFs)