API 579-1 Fitness-For-Service Simplified
INSPECT performs the calculations and assessments needed by Engineers engaged in process plant inspection and maintenance activities. It creates detailed Fitness-For-Service (FFS) reports for pressure vessels, heat exchangers, piping, and above ground storage tanks. INSPECT reduces regulatory compliance risk by creating ASME design reports for your undocumented pressure vessels.  It also organizes and adds context to your inspection data by showing CML's and API 579-1 flaws on its 3D equipment models.
Depending on your needs, INSPECT's API 579-1 FFS can assess individual components, complete vessels, or model entire process systems. INSPECT performs rigorous tmin calculations that can extend vessel remaining life and inspection intervals.  INSPECT's integration with Shopfloor, our weld procedure software, simplifies repair weld tracking as well.
INSPECT is a Fitness-For-Service extension of our market leading COMPRESS pressure vessel software. It includes all available COMPRESS functionality and shares the same user interface and file format. This makes transitioning from COMPRESS to INSPECT simple and efficient. Users new to Codeware products benefit from an easy to learn user interface that minimizes training time and reduces implementation costs.
Featured Fitness-For-Service Capabilities
INSPECT:  Comprehensive FFS + Mechanical Integrity Software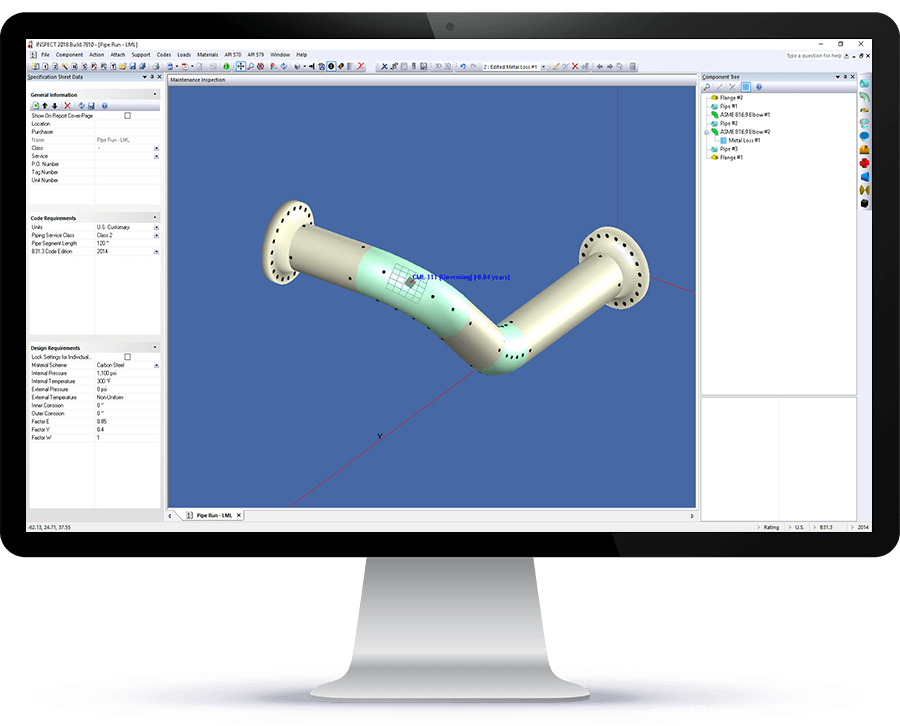 API 579-1/ASME® FFS-1
Taking equipment out of service is expensive but leaving damaged equipment in service can be risky. INSPECT's Fitness-For-Service assessments assist Engineers in determining if repair or replacement is really necessary. A wide range of flaws are addressed including general and local metal loss, pitting corrosion, grooves, dents, gouges, cracks, creep and fire damage. Complete Part 3 brittle fracture checks automatically support INSPECT flaw assessments as well. INSPECT's Minimum Safe Operating Temperature curves can quickly screen process equipment that may be exposed to auto-refrigeration. INSPECT's data logger integration can quickly turn thickness survey readings into FFS results and help ensure turn arounds stay on schedule. INSPECT produces detailed API 579-1 remaining life reports that let you verify the calculations performed and provide RAGAGEP support for your recommendations.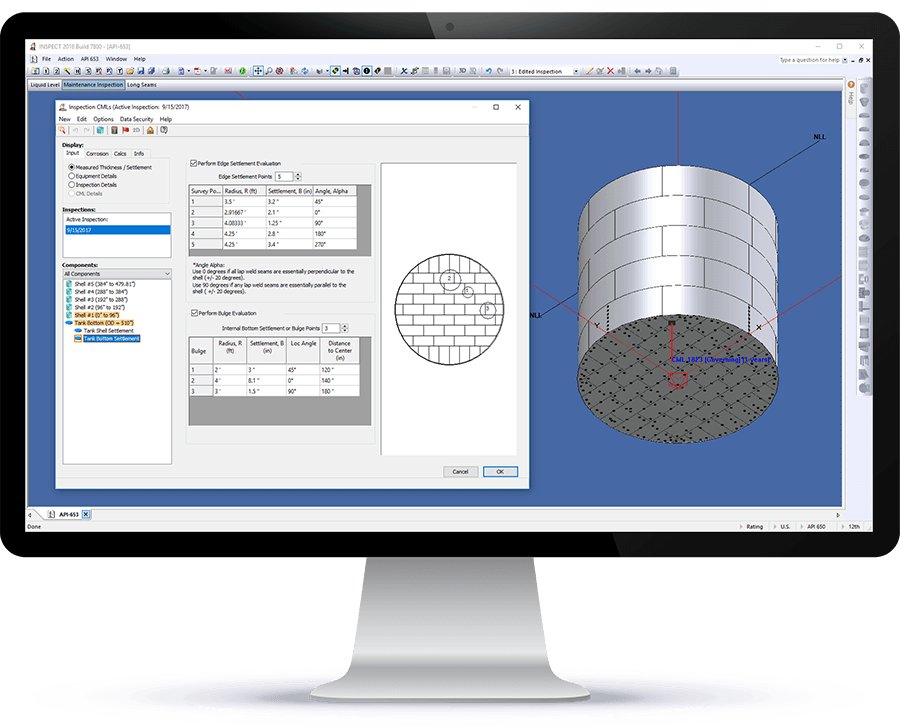 ASME VIII, API 510, API 570, and API 653
INSPECT's mechanical integrity capabilities include a flexible inspection data management system that lets you specify the CML data to track. Rigorous tmin, remaining life, and inspection interval calculations are built-in. All API 510 and API 570 Code results are supported by full ASME VIII, ASME B31.3, ASME B31.4, and TEMA calculations and reports. Old ASME VIII-1 Codes, dating back to 1950, are supported. INSPECT helps safely extend equipment life and inspection intervals by implementing the most economical Code allowable stresses and weld joint efficiencies permitted by the NBIC / API 510. API 653 storage tank assessments include consideration of shell out-of-plane and edge settlements, floor bulges, and patch plates.
Pressure Vessel Re-Rating
INSPECT quickly performs ASME compliant pressure vessel re-rating calculations and includes support for ASME Codes dating back to 1950.

INSPECT accurately determines what equipment re-rating does to equipment remaining life and inspection schedules.

Unlike other mechanical integrity systems, INSPECT produces extensive audit trail reports that document all calculations performed.