Run, De-rate, Repair or Replace
INSPECT helps Engineers make run, de-rate, repair or replace decisions for ASME pressure vessels, heat exchangers, piping and tanks. It can quickly perform a fitness-for-service damage assessment on a simple component or model an entire process system. INSPECT and COMPRESS share the same user interface and file format so if you are familiar with COMPRESS you already know how to use INSPECT.
INSPECT is an inspection data management system (IDMS) that has the unique ability to show CML's and damage such as pitting and local metal loss directly on equipment models. INSPECT's 3D plant modeling for Inspection, Reliability and Pressure Equipment Engineers makes it simple to organize equipment into corrosion loops that reflect your processes. INSPECT also documents un-documented ASME pressure vessels and heat exchangers by producing detailed reports that comply with OSHA 1910.119 and EPA RAGAGEP requirements.
Mechanical Integrity + Fitness-For-Service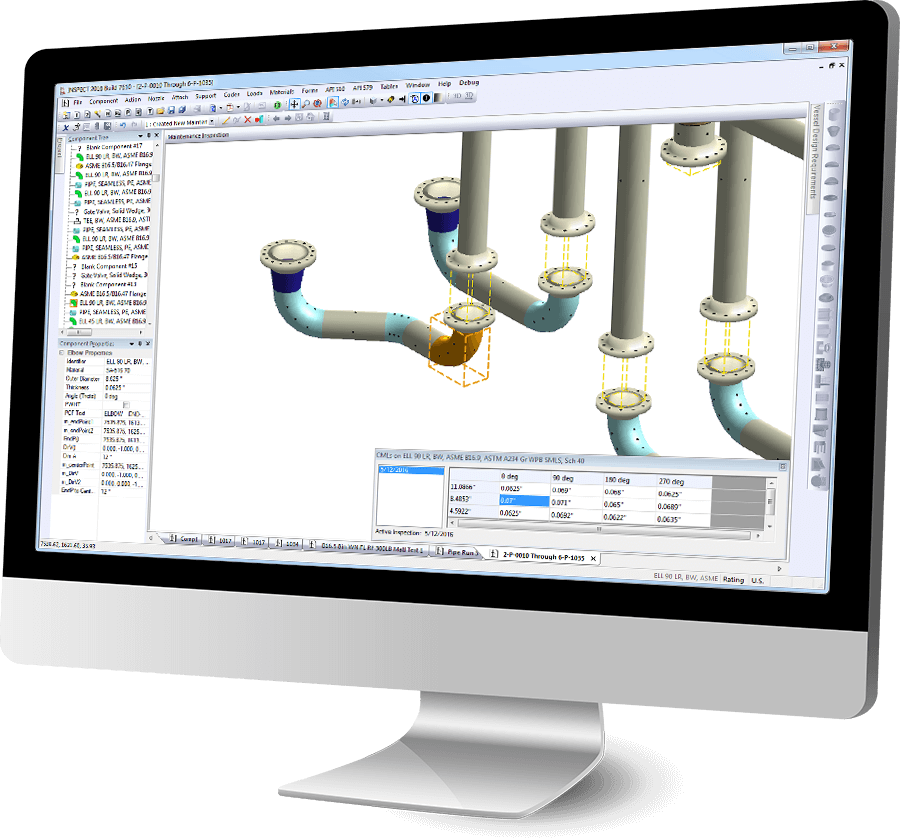 API 510, API 570 and API 653
INSPECT's mechanical integrity capabilities include inspection data management as well as rigorous tmin , remaining life and inspection interval calculations. All API Code results are supported by full ASME VIII, ASME B31.3, ASME B31.4 and TEMA calculations and reports. INSPECT implements the most economical combination of Code allowable stress and weld joint efficiency permitted by the NBIC /API 510.
API 579 FFS Damage Mechanisms
Taking equipment out of service is expensive but leaving damaged equipment in service can be risky. With INSPECT's 3D graphics, you obtain visual confirmation that the equipment and damage have been properly modeled. INSPECT produces detailed API 579 fitness-for-service reports that let you verify the calculations performed and provide RAGAGEP support for your recommendations.
Re-Rate Pressure Vessels
INSPECT quickly performs ASME compliant pressure vessel de-rating calculations.

Quickly determine what equipment re-rating does to remaining life and inspection schedules.

Unlike other mechanical integrity software, INSPECT shows the governing inspection location on the 3D model and produces extensive audit trail reports to support your recommendations.
What's New in INSPECT 2017 Build 7700
Compliance with the new API RP 579/ASME FFS-1 2016 standard

Grouping equipment into Process Systems to create INSPECT 3D plant models for simplified data navigation

Enhanced user interface featuring panes for entering global design parameters

Material composition screening for brittle fracture as recommended by The National Certified Pipe Welding Bureau (NCPWB)

Minimum pipe structural thickness check per API RP 574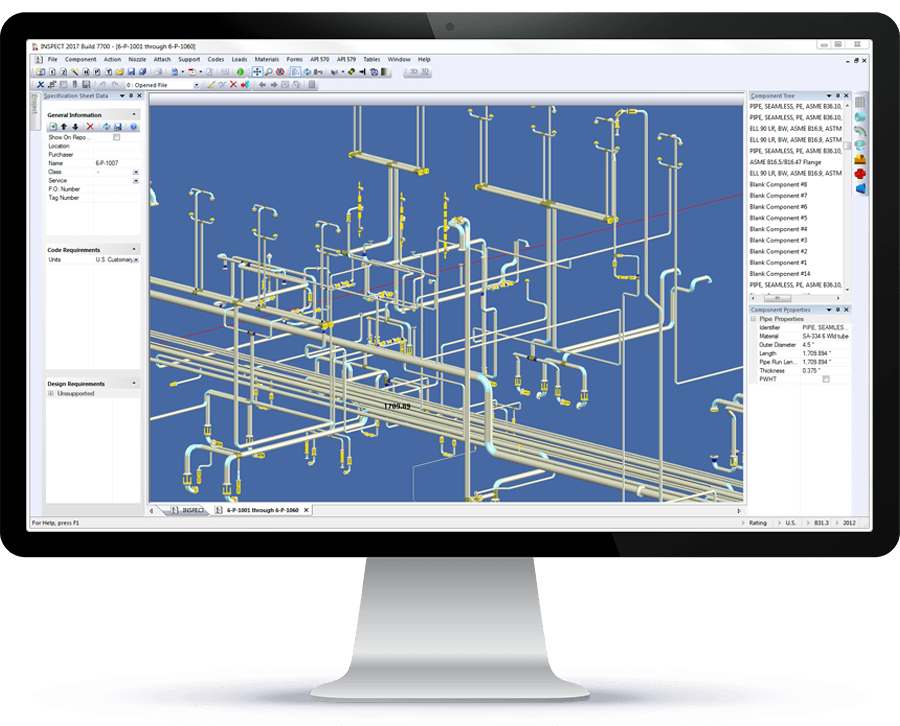 Process piping (API 570 for ASME B31.3)

Transportation piping (API 570 for ASME B31.4)

Load piping systems from programs such as ISOGEN® and AutoCAD® using the .pcf file import

Level 3 Local Metal Loss assessment (FEA based)

Import Critical Thickness Profile (CTP) data files in .csv format

All COMPRESS feature enhancements and additions
Meeting National Board Requirements With INSPECT
View a webinar on meeting National Board Requirements with INSPECT. Topics include:
A brief overview of COMPRESS and INSPECT

NBIC considerations – Re-rating or Relocating Equipment

Re-rating Equipment Using INSPECT: – NBIC Interpretation 98-14 – Brittle Fracture and MDMT – Inspection Schedules for Corrosion – Benefits of Modeling Longitudinal Welds
API 579 2007-1 Damage Assessments With INSPECT
View a webinar on performing API 579 damage assessments using INSPECT.  Topics include:
Part 3 – Brittle Fracture (recommended prerequisite for Part 5 and 6)

Part 4 – General Metal Loss

Part 5 – Local Metal Loss (includes groove-like flaws)

Part 6 – Pitting Corrosion

Supplemental loads for Parts 5 and 6

Combining damage from local metal loss and pitting