Create True SOLIDWORKS® Models
The Codeware Interface (CWI) creates fully featured SOLIDWORKS models from COMPRESS pressure vessel and heat exchanger design files. This means that all sketches, tables and drawings generated by the CWI can be manipulated as if the model had been created manually in SOLIDWORKS.
Competing software may claim to support SOLIDWORKS but before you decide ask if their models support SOLIDWORKS operations like Sheet Metal or Mates. Key features like these are required if you want to take full advantage of the time saving power of the SOLIDWORKS platform.
Easy SOLIDWORKS Drawing Template Set Up
With changing times come advances in technology. Software system upgrades are often confusing and time consuming. With the CWI, your company drawing standards can be set up using custom templates. This way your personnel will not have to be retrained to read CWI generated drawings.
Update CWI Created Drawings Quickly
Fabrication often involves unexpected, last minute changes. For example, a nozzle may be too close to a joint or need to be rotated slightly. The CWI makes it easy to adjust nozzles with its Edit Nozzle and Drag Nozzle features. Simply specify new coordinates and CWI will adjust the SOLIDWORKS model for you. Since the models are linked to the drawing they will be updated automatically. This convenient feature saves you time and ensures the information was updated correctly.
Create Tables and Schedules
Included in the CWI are prebuilt tables such as nozzle schedules, nozzle loads and a foundation loads summary along with others. Use the prebuilt tables as is or quickly and easily change them to meet your requirements. The tables can be saved and reused for increased productivity.
SOLIDWORKS Integration with COMPRESS and Shopfloor
Along with importing calculated values from COMPRESS (MAWP, MDMT, Hydrotest Pressure etc.) the CWI also imports welding information for designs that have been run through Shopfloor. WPS details from Shopfloor and weld geometries from COMPRESS are used to automatically generate Weld Maps and Joint Detail drawings.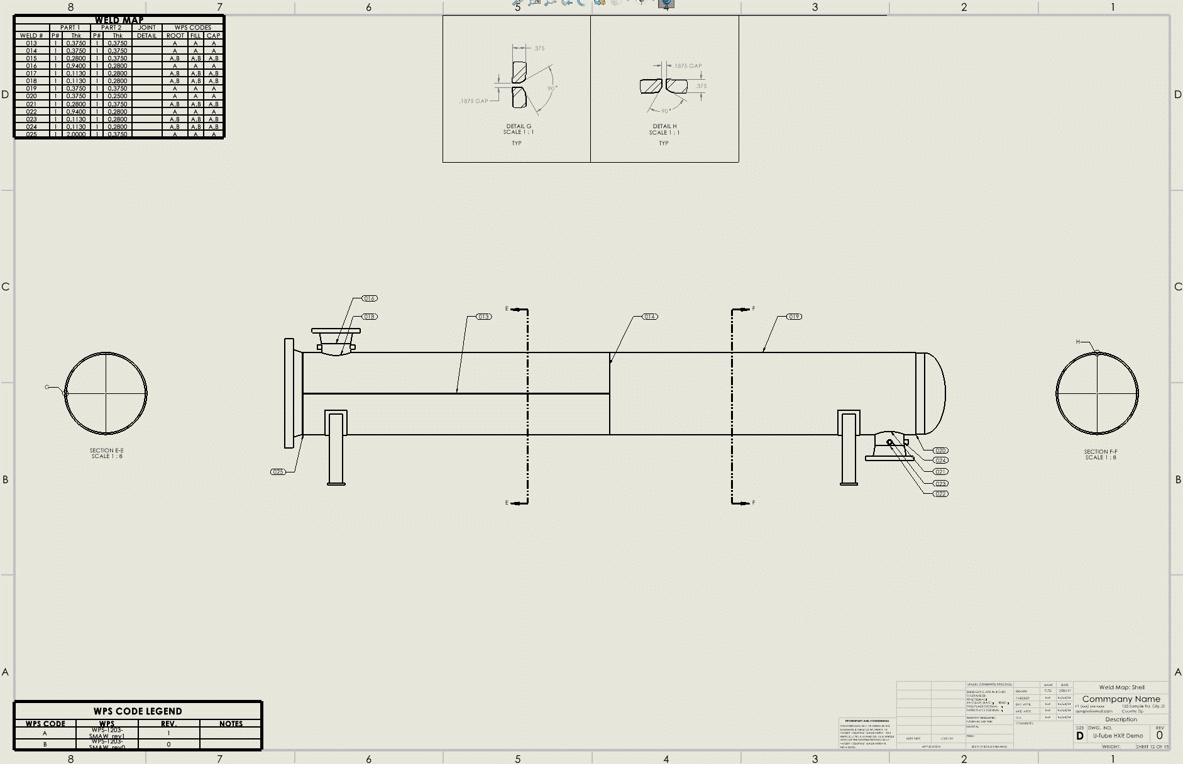 CWI Supports SOLIDWORKS Sheet Metal Operations
Modern manufacturing techniques increasingly rely on automation to do more work. Laying out nozzle cut outs for hillside or tilted nozzles can be tedious, time consuming and difficult to get right. The CWI can import COMPRESS files and make use of the SOLIDWORKS sheet metal feature to automatically create flat (roll out) patterns. The resulting pattern can be quickly checked and then sent off for further processing.
COMPRESS Pressure Vessel Design Highlights